Skate and Date Devlog (12/18/17)
---
I finally got the beats to work accurately! And besides that I've also been able to also get a setting screen working!
I was originally going to show a gif capture of it working however it lagged a bit :/ but like what I mainly wanted to point out is the disco ball pulsing to the beat! All the other visuals I took out to focus on programming
Here's a screenshot of the quickly made settings screen that functions 100% though >:^)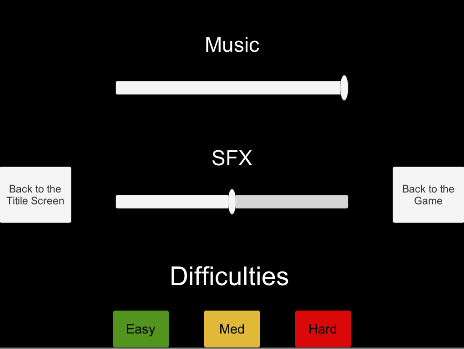 If you have any suggestions of what I could add to the settings screen feel free to comment below!
Now moving on to the next steps for the game. I'm going to focus on the visuals but I'm thinking of changing the style to pixel art maybe??
Well most likely actually.
The last time I worked on polishing the animations my tablet driver was all messed so in the end I got very little done and to be honest I wanted to originally do pixel art but the character turnarounds of Maggie and Patricia weren't pixels so I was like "nahh"
I was also able to work on music a bit more because I do want to have original music instead of covers.
So over the christams break which is sooooo close by I'm going to:
Work on all the art stuff for the rhythm game portion ( which I may stream)
Have three playable(and original) songs ready
Start planning the story
By like Saturday or even Christmas day I may possibly give an update of what's happening but for now I have Christmas gifts to finish making!!
Hope you all have a great week and happy holidays c: